As my first blog post emphasized, if you want to learn to sing or play a musical instrument, do it! Here is why.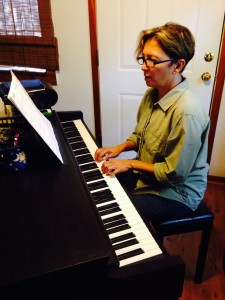 I've always said, "freedom is having choices in life." The more skills I have, the more choices I have, thus, the more free I am.   The more free I am, the happier I am.  So, it's always been my goal to acquire skills.  That's why I say, do it!  I tell my students you'll never look back and say, "If only I had not picked up that guitar."  You will never say, "I wish I had never learned to read music," or "Dang, why did I learn to play the piano?" I guarantee to them that they will never say that.  I believe it.  I believe in acquiring skills to give ourselves choices.  My life has been about acquiring skills and making choices.
When I transferred from St. Olaf College to the University of Iowa to study music therapy, I was advised to finish my music education degree as well, to increase my chances of finding a job after college – to give me more choices.   That worked for me even though with the transfer it put me on the 6 year undergraduate plan.  But, I had time and I did well there, and really enjoyed my music therapy/music education classes and professors at the University.
When I graduated in 1980, having completed a semester of student teaching and a six month music therapy internship in Kansas City, MO to acquire a diverse inner city experience to give me, yes, more choices upon graduation, I ended up landing a job in a small town in Iowa teaching K-12 vocal music for a year anyway. Even though it was a fairly successful year in terms of what the students and I accomplished, I learned teaching music in a small town was not something I wanted to do very long.
Luckily, I heard about a music therapy position at the University of Iowa Hospitals and Clinics (UIHC), applied, and was hired. So, I headed back to Iowa City where I pioneered the music therapy program at the UIHC.  In 1986, I was considering getting a Masters in counseling or social work when the School of Music made me an offer I couldn't refuse.  I was offered a Teacher's Assistantship (TA) including supervising practicum students (which I was doing anyway), teaching a few classes here and there and helping my advisor with research.  Don't get me wrong.  It was no piece of cake but, I got my cake and ate it too.  The University and work cooperated with each other so I could continue working full time at the hospital (keeping all my benefits J) while taking classes and fulfilling my TA responsibilities.  A perfect scenario.  Oh, and I was supervising music therapy interns for 6 months at a time as well.
Most of the time, I did pretty well juggling it all but by 1989, I was getting pretty burned out.   I thought I had the mental stamina to finish my thesis and remaining two music history classes until in a meeting with my advisor she mentioned, "Now when you take your comps you'll do (whatever she said – she had lost me there)."  "Comps! What?!! I'm writing a thesis so I don't have to take comps," I protested.  You see, there was a person who had started the program after me who chose not to do a thesis and was only required to do comps.  Basically, that person was getting the same degree as I, but I was having to do a thesis AND comps.  Uh, uh.  That did not work for me.  I lost all steam.  I called other colleges and confirmed that 'thesis option' meant, no comps if you chose the thesis.  My advisor would not budge.
I made a choice; well, several choices. I quit my job, took a break from school and set out on a self-contained bicycle trip around the perimeter of the United States I had been dreaming of doing for six months.  I thought, "I will never look back and say, oh, I wish I had not quit that job." It had been a wonderful, fulfilling experience but I was ready to move on and I had done all I could there without another music therapist on staff.  (Today, 4 music therapists work there!) I thought, I will never look back and say, "Oh, I wish I had finished my MA," basically because I just needed a break and I was certain I WOULD go back and finish it.  I wanted the Master's Degree.
After being on the road for 9 months, I discovered the Texas Hill Country and decided to settle. When I assessed my skills to figure out what was next, and wanting to avoid an 8-5 job, I chose to start teaching voice, piano and guitar.  I have now been teaching privately for over 20 years.  My teaching has served me well and I have quite a passion for it.  I never aspired to make my living teaching music privately, but the choices I made along the way gave me the skills to build a private teaching business.
So, if you have the desire to learn to sing or play a musical instrument, there may be obstacles, but choose to acquire that new skill. You'll be amazed at the joy that comes along with it and where it may lead.  If one teacher doesn't work out and you still want to learn, try another teacher.  Don't give up.  Acquire the skills. You will never look back and say, "I never should have taken those music lessons."  You're MORE likely to say, "I wish I had taken lessons or continued to take lessons."  I hear it ALL the time.  Heck, you might even end up teaching someone else, or playing in a band, or singing in the choir, or participating in community musical theater, or being the "star" at the nursing home when you're 80.  I have many former students who have gone on to do any of those things.  Acquire the skill so you have another choice on what to do with your leisure time.  Or perhaps it will give you something new and fun and creative to do with your children or grandchildren.  Do it!  Acquire the skill!
© 2015 Moondance Treasures Music Publishing