Brenda's Effortless Singing Techniques ("BEST") can seem like it is a lot to remember. However, when I break it down, it's really four main points:  P-BOP
Posture
Belly Breath
Open the mouth
Pucker the lips
For photos of each go to www.EffortlessMusicInstruction.com , click on EMI Products and scroll down and click Effortless Singing Photos, or simply click here: http://www.brendafreed.com/products/instructions/index.htm
The best way to practice these techniques is to look in a mirror and "play" with them. 
Posture – Stand with feet shoulder width apart and knees soft (not locked), or stand with feet shoulder width apart with one foot slightly in front of the other.  Your weight is more to the toes so you feel like you could take off, springing from your toes with your spine straight and bent slightly forward from the hips so your belly can drop for the belly breath.  Look in a mirror and make sure you are not sinking into your heels or pushing your hips forward.  Poor posture will prevent you from getting a good belly breath.  Look in the mirror and experiment with finding a comfortable standing posture. 
Belly Breath – A quick, low, relaxing belly breath.  Open mouth, inhale quickly as if you are surprised.  Shoulders stay down and relaxed.  Neck muscles and tongue are relaxed.  Singing from a point of relaxation is what the belly breath provides, rather than singing from a point of tension.   When you take too big of a breath,  I call that "pumping up" and it causes tension in the muscles of your chest, shoulders and neck.   With a quick, low belly breath, the only movement is in the belly as it goes out/drops (as if to fill the balloon with air).  As you sing, let your belly come in naturally (as you let air out of the balloon).  Take note of the kind of breath you take right before you go to sleep.  It's probably a belly breath.  If it's not, practice relaxing in bed with the belly breath.  The exhale will be longer than the inhale, just like when you take a quick, low belly breath and sing a phrase.  Practice the belly breath in the car, on the airplane, on the train, while watching TV, in conversation, all the time!.  Look in the mirror to practice taking belly breaths as you sing. 
 Open Mouth – Sing the vowels and flip the consonants off the tip of your tongue.  Open your mouth at least two fingers stacked, take a belly breath and sing the long vowel s sounds (A E I O U) on one pitch.  Long "O" and long "U" are the most difficult.  You can practice this with your fingers actually stacked in your mouth.  Then sing the short vowel songs, again keeping the mouth open at least 2 stacked fingers wide.  Practice all the vowel sounds with and without your fingers stacked in your mouth.  Opening your mouth will give you effortless projection and enable you to sing high notes easier.  Look  in a mirror to practice keeping your mouth open while you sing, opening on all the vowel sounds of a phrase.
Pucker – Say "you", then say "you" and open to "ah" with the pucker of the "you" ("you-ah" opening to two fingers stacked wide).  It is a slight pucker, just like you make when you speak "you".  Think a smile as you do it to get the "lift" into your cheeks and eyes.  This  "smile pucker lift" keeps tone out of the nose, corrects flat singing because it causes the soft palate to raise and gives all vowels a consistent placement making your tone consistent.   Look in a mirror and practicing singing everything with your mouth open and your lips slightly puckered.   You will find the "sweet spot" where it feels and looks natural.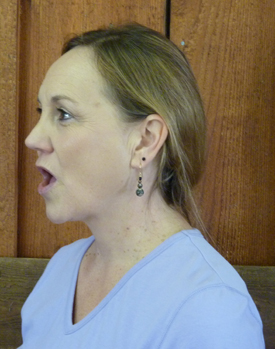 Have fun experimenting with the P-BOP of Effortless Singing!
© 2015 Moondance Treasures Music Publishing